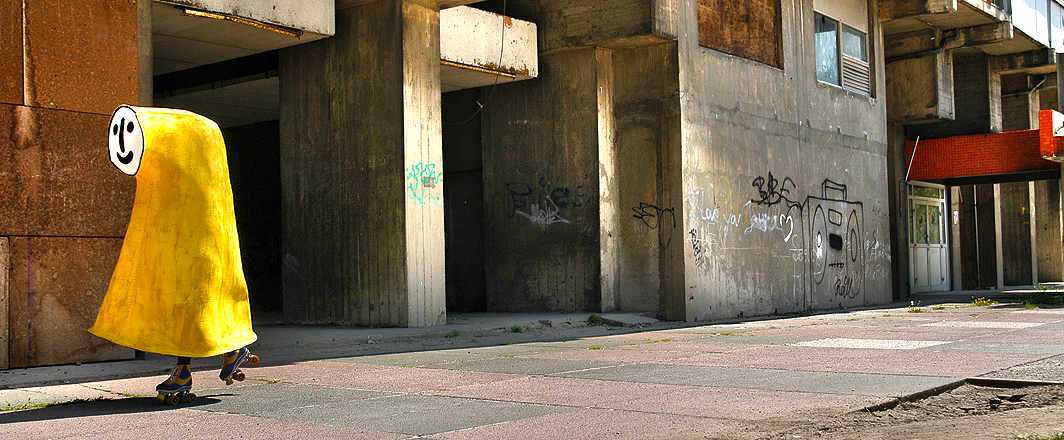 PICTOPLASMA SHOP
CUSTOMER SERVICE
1.
PAYMENT
1.1 VIA PAYPAL / CREDIT CARD
Your payment transaction is handled by PayPal using secure HTTPS protocol.
If you don't already have a PayPal account, you can sign up easily in minutes. Alternatively to setting up a full PayPal account, the service also allows you to make your payment via the following credit cards: Visa, MasterCard, American Express and JCB. Once you've logged in and successfully finished your transaction, you will receive an order confirmation via Email (to the Email address you've used during the transaction), together with an invoice form the Pictoplasma Shop as PDF.
1.2 PRE-PAYMENT BY INTERNATIONAL BANK TRANSFER
Choose international Bank Transfer if you want to transfer the invoice total upfront to our bank account. You will receive a confirmation Email containing our bank account information.
Important: We will only send your ordered items after receiving the invoice total in full. Please transfer the order amount to the account stated in the confirmation Email (including additional transaction costs that might occur ) within 3 days time, and use the order confirmation number and your full name as reference.
Please be aware that we will hold your order for 10 days during which time we must receive your payment in full on our bank account. If not, the order will be cancelled automatically.
2.
SHIPPING
2.1 All orders are dispatched by us personally with love from our Berlin office within 5 working max, usually twice weekly (Tuesdays and Fridays). If this cannot take place due to temporary absence or other reasons we will contact you via Email to inform you of an alternative dispatch date.
2.2 All orders are sent out by the standard parcel shipping of Deutsche Post/DHL airmail. This service has no track & trace option for shipments, but depending on your location, please allow between 1 or 2 week (Germany and EU) and 5 weeks (America, Asia, rest of world) for delivery. Please be aware that during the inevitable Christmas chaos (December – January) the delivery may take longer. In general we can't influence nor can be held responsible for delays due to differences in postal systems, customs inspections at the country of destination and/or delays during busy postal times.
2.3 If you haven't received your order within the above mentioned timespan, please get in touch with us directly via Email to shop (at) pictoplasma (dot) com, and we'll do our very best to sort things out immediately.
2.4 Should you want your order to be shipped by trackable (international) registered or insured post (via FedEx), please contact us prior to any purchase via Email to discuss possibilities and for additional pricing.
2.5 Although all responsible steps have been taken to pack each item as securely as possible, we can't be hold responsible for loss or damage by delivery companies.
3.
RETURNS & REFUND
3.1 We at Pictoplasma want you to be 100% happy with our products. If, for any reason, you have a problem, a question, or would like to return an item you have purchased, please first send an Email to shop (at) pictoplasma (dot) com to discuss your options.
3.2 Please bear in mind that all refunds and returns must be negotiated within 30-days of receipt of your order, and only if you can return the order to us in its original condition: the item must be unused and securely packed for postage.
3.3 We can only refund you for the goods returned – not the postage. All incurring postal charges and fees of the return are the responsibility of the customer: we cannot be liable for returned goods which are not received.
3.4 We are not responsible if your shipment is returned to us (the sender) after failed delivery attempts to the address you have provided. Please make sure that the shipping address you provide is correct, complete, and capable to receive packages during regular delivery times (no PO boxes).
3.5 Please direct all enquiries to shop (at) pictoplasma (dot) com

TERMS AND CONDITIONS
By submitting an order on this website you are agreeing to the terms that appear below which shall apply to your use of this website along with the Legal Noticeand Privacy Policy
1.
DEFINITIONS

"Pictoplasma" shall mean Pictoplasma, Denicke & Thaler GbR, Plantagenstrasse 31, 13347 Berlin, Germany, the publisher and distributor for internet orders of the books and products appearing on this website. "website" shall mean the website owned and operated by Pictoplasma, "goods" shall mean the books or other products appearing on the website except for tickets to our events that are subject to special Terms and Conditions of Sale – Tickets to Events. "Customer" shall mean an individual natural person dealing as consumer or a company, firm, sole trader or other organisation purchasing goods from Pictoplasma in each case for their own use and not for re-sale.
2.
GENERAL

2.1 All contracts for the sale of goods by Pictoplasma to the Customer are governed by these Terms and Conditions of Sale. Pictoplasma reserve the right to amend these Terms and Conditions of Sale at any time although the terms and conditions governing any given contract of sale will be those in effect at the date the Customer's order is sent. When these Terms and Conditions of Sale are changed, Pictoplasma will post a notice on the homepage of the website. The contract of sale for any goods ordered after Pictoplasma have published notice of the changes will be governed by those changes.
2.2 All goods are sold subject to the condition that they shall not, by way of trade or otherwise, be lent, re-sold or hired out or otherwise circulated without Pictoplasma's prior consent, in any form of binding or cover other than that in which they are published and without a similar condition being imposed on the subsequent purchaser.
2.3 All prices are quoted in Euro.
3.
CONTRACT OF SALE

3.1 The Customer may order goods from this website only. Pictoplasma shall confirm acceptance of the Customer's order by e-mail, on transmission of which the contract of sale will be made. Goods will be supplied to the Customer in accordance with the Customer's order and these Terms and Conditions of Sale.
3.2 In the event that the Customer does not have e-mail, Pictoplasma will not be able to sell the goods.
4.
PRICE

4.1 The price of the goods shall be as quoted on the Website on the date the Customer's order is sent to Pictoplasma subject only to any technical error for which Pictoplasma shall not be liable.
4.2 The price stated on the website is inclusive of any VAT chargeable in Germany.
4.3 The price of the goods does not include the cost of postage and packing, which is calculated, added and displayed prior to final checkout on a favorable weight based basis. For goods on which VAT is chargeable, as required, VAT might also be levied on the cost of postage and packing.
4.4 Pictoplasma shall not be responsible, and the Customer has sole responsibility, for complying with any legislation or regulation governing the importation of goods into the country of destination and for the payment of any import or other duties or taxes.
5.
METHODS OF PAYMENT

5.1 Payment may be made through the service of PayPal (USA).
5.2 The credit cards and payment methods accepted by Pictoplasma are those listed on PayPal's Website on the date on which the Customer's order is sent.
6.
DELIVERY

6.1 All Products shall be despatched on behalf of Pictoplasma, Berlin, usually once weekly (Friday 12:00 CET). Delivery shall be made to the address specified by the Customer on the completed order.
6.2 Pictoplasma shall endeavor to ensure that the goods are delivered within 30 days of the date the Customer's order is sent but the Customer agrees that delivery after this period shall be accepted. All goods will be delivered via regular post (Deutsche Post/DHL).
7.
RIGHT OF CANCELLATION

7.1 A Customer who is an individual natural person has the right to cancel the contract up to 7 working days after the day following the delivery of the goods by notifying Pictoplasma by e-mail.
7.2 In the event that the goods have already been despatched at the date of receipt of the Customer's cancellation of the contract the Customer shall return the goods to Pictoplasma at the Customer's own cost, in the packaging in which the goods were delivered or equivalent packaging.
7.3 In the event of cancellation of the contract, Pictoplasma will credit the Customer's credit or debit card with the price of the goods within 30 days beginning with the day on which notice of cancellation was given. Credit shall not be made unless and until the goods have been returned to Pictoplasma in a re-saleable condition.
8.
DEFECTIVE GOODS

8.1 The Customer shall inspect the goods and notify Pictoplasma within 7 days of delivery of any manufacturing faults revealed by that inspection.
8.2 Subject to the Customer returning the goods Pictoplasma will replace such goods as it agrees to be faulty provided that such replacement can be made from current stock and Pictoplasma will credit the Customer the cost of returning the goods.
8.3 If replacement cannot be made from stock, Pictoplasma will refund the price of any faulty goods including postage and packaging. Pictoplasma will not accept any further claims for loss whether of or in connection with supply of faulty goods, whether direct, indirect, consequential or otherwise, howsoever arising.
9.
LOSS OF OR DAMAGE TO GOODS IN TRANSIT

9.1 In the event that the goods are not received by the Customer within a reasonable period of Pictoplasma's acceptance of the Customer's order the Customer shall notify Pictoplasma Distributors and Pictoplasma will deliver the goods a second time. In the event the original goods are subsequently received by the Customer, the Customer shall notify Pictoplasma Distributors and return the goods to them.
9.2 In the event that the goods are damaged in transit, the Customer shall notify Pictoplasma Distributors within 7 days after the date of delivery and subject to the Customer returning the goods and their receipt by Pictoplasma, Pictoplasma will despatch replacement goods, if available, or Pictoplasma will credit the Customer the price of the goods and postage and packing if they are not.
9.3 In either of the events envisaged by Clause 9.1 and 9.2, Pictoplasma's liability shall be limited to the price of the goods and postage and packing.
10.
RISK AND OWNERSHIP

10.1 Risk of damage or loss of the goods shall pass to the Customer on delivery of the goods or, if the Customer fails to take delivery of the goods, at the time when delivery would otherwise have been effected.
10.2 Title in the goods shall pass to the Customer on delivery of the goods.
11.
WARRANTY AND LIABILITY

11.1 Pictoplasma warrant that the goods will correspond with the Customer's order where stock is available and the goods delivered will be free of defects although Pictoplasma's liability for breach of these warranties is restricted to the remedies set out in Clauses 6, 8 and 9.
11.2 The goods are not sold as fit for any particular purpose and save for Clause 11.1 any warranty, condition express, implied or statutory or any duty of any kind imposed on Pictoplasma by operation of law is excluded to the fullest extent permitted.
11.3 If, notwithstanding the provisions of Clause 11.2, liability attaches to Pictoplasma by operation of law, in no circumstances shall Pictoplasma's liability to the Customer exceed the total contract price of the goods and postage and packing.
11.4 Pictoplasma will not be deemed to be in breach of contract or of these Terms and Conditions of Sale as a result of any delay in its performance or failure to perform its obligations if that delay or failure to perform is due to any cause or circumstance beyond Pictoplasma's reasonable control including, but not limited to, postal or other carrier strikes, fire, flood and other acts of God, riot, accident, civil commotion or war.
12.
DISCLAIMER

Pictoplasma disclaims all responsibility and liability for the import into any country of any goods which infringe any local legislation of that country.
13.
WITHDRAWAL OF GOODS

Pictoplasma reserve the right to withdraw from sale any goods published or previously supplied by it without prior notice or liability to the Customer.
14.
CUSTOMER COMPLAINTS

Any Customer complaints should be addressed to
Pictoplasma
Denicke & Thaler GbR
Plantagenstrasse 31
13347 Berlin
Germany
Email: shop (at) pictoplasma (dot) com
15.
GENERAL

15.1 If any of these terms and conditions of sale is held by any court of competent authority to be unlawful, invalid or unenforceable, in whole or in part, this shall not effect the validity of the remaining terms and conditions of sale which shall continue to be valid and enforceable to the fullest extent permitted by law.
15.2 The Contract of Sale and these Terms and Conditions of Sale shall be governed by German law and Pictoplasma and the Customer hereby submit to the exclusive jurisdiction of the German courts in relation to any dispute which may arise between them.
16.
LEGAL NOTICE
Any reproduction and/or use in any manner of the entire Web Site and/or copyright protected parts of it (including but not limited to audio and graphic material, photos, texts, layouts etc.) is strictly prohibited if not expressly allowed otherwise.
Pictoplasma is not liable for the content of direct or indirect hypertext references to external Web pages ("Links") unless Pictoplasma adopts the content as it's own. Obligations of Pictoplasma to delete links to Web pages which contain illegal material from which Pictoplasma has knowledge of remain unaffected. Pictoplasma is and will not be liable for content in guest books, discussion forums and chats ("Third Party Content"). Any of such Third Party Content does not necessarily represent the opinions, beliefs, or positions of Pictoplasma.